New Features
All Features
Owning to its specific mobility feature, GOIS equips you tracking your current stock status for any business unit and location on the go. Users may perform easy stock check-in and check-out operations to boost their business productivity. Moreover quickly scan product barcode to check on-hand quantity and make necessary stock adjustments on the fly.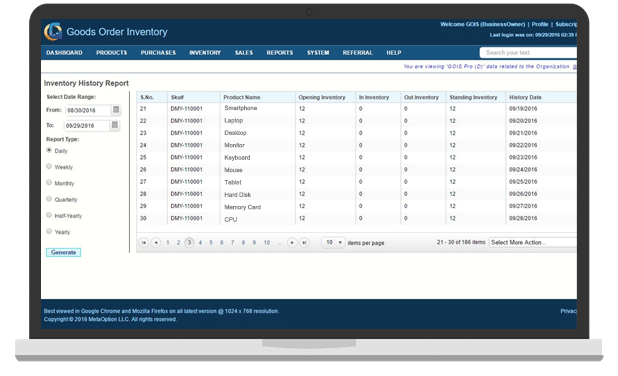 GOIS gives Owner a flexibility to monitor and operate all the assets from any global location with real-time access on GOIS cloud. Also an investor can have an eye on the total stock cost of assets at a certain period of time which can also be helpful in business auditing to calculate the current investments on any particular inventory or asset.
Building business relationships with customers and vendors becomes easy with GOIS system as it allows user to store a vendor or customer information within it, like multiple billing or shipping addresses, contact information, etc. and map such useful information of vendors and customers with purchase and sales respectively to keep a track of all the historical prices you have considered while making any order transaction.
Quickly create purchase and sales orders from your smartphone, tablet, iPad, iPhone or web browser by scanning product barcodes or searching SKU to line up the items in the order list and receive/dispatch items to/from the warehouse by requested date and time.
Now assemble different individual items to make your own product kits and form multi-level composite product which can be purchased, stocked or sold as a single unit. Making a sale of a composite product or kit will automatically deduct quantity of each individual component mapped with that composite product from a chosen warehouse location. Users may also sell kit components separately during bundles stock-outs.
Have your desired template for Purchase Order, Sales Order, Invoices, shipping labels, etc. customized as per your business standards including your company logo, banner, etc. to enhance look & feel of a template. Moreover hide-unhide desired information from the template before sending it in email to vendor, customer and internal team member.
GOIS added new shipping document to get printed out as Packing Slips and Picking List to streamline your customer order preparation and processing into the system. Packing slips includes itemized goods without prices and other necessary fields like Freight, Payment Terms, Shipping Address, PO#, etc. to ship complete product information with the shipment box. Efficient Pick Lists saves the steps and time to help your warehouse workers take out items from inventory to fulfill orders more quickly and accurately.
GOIS allow your sales executives or service technicians to capture signature on the field and work area from the customers directly using their android/iOS smartphone devices to have real-time stock update against the orders and confirmation on the go. Moreover user can upload a signature image from their web account to update the order status on server.
Quickly generate and print a product barcode label and stick with the products on the warehouse to allow fast barcode operations by increasing your business efficiency. GOIS advanced barcode scanning function uses mobile rear camera or external Bluetooth scanner to perform quick operations like Stock Check-In/Check-Out, Inventory Adjustments, Stock Transfers, Purchase and Sales Orders on the go.
Now streamline inventory operations by tracking real-time stock movements to assess current stock levels across multiple warehouses and bins. Moreover create sales from a given Lot and even with back order quantity so as to collect orders from your customers without having availability of item under your stock. Moreover user can now fulfill the stock for back order quantities later at the time of shipping a customer order.
To reduce the load of manual stock levels updates, GOIS has provided Transfer Orders function that allows you to quickly create a new transfer order between two warehouses, locations or business units. Simply select a source and destination location and add items along with the quantity to be transferred to initiate the bulk transfer. This allows inventory relocation between locations in an organized fashion.
Set automatic e-mail notifications for Low Stocks, Purchase & Fulfilment, Sales & Dispatch, Adjustments and Transfers to keep you aware about the operations being performed by any user under an organization. Moreover Business Owners can now define a recipient list for every activity to be performed into the system so as to notify recipients immediately.
An easy way to build a quick edge-to-edge connection between two cloud systems allows you to synchronize all the information between GOIS and QuickBooks account. You may also keep your accounting transactions updated into the QuickBooks system and take the advantage of advanced reporting capabilities. This feature centralized your orders and inventory across multi-location business environment to streamline your warehouse operations and boost up your overall productivity. Further automatic syncing of recent stock and order information provides your business a perpetual inventory and ordering control system.
Setting up GOIS is extremely easy using standard .CSV templates provided into the system. These .CSV files quickly import all your external information like product list, stock quantities, customer list, vendors list, etc. in just one shot with an interactive user friendly interface which saves a lot of your precious time from manual data entry operations.
To restrict the access levels for different users working with same data set under an organization, GOIS offers Business Owners a new feature which allows creating new roles as required and map desired permissions set with that particular role to assign it to a new user. Also system provides pre-defined roles for sub users like Business Admin, Business Manager and Sales Executive.
Using GOIS native mobile app on android or iOS, go offline and don't let your business be dependent on network connectivity. No matter where you are in, keep performing business operations like new sales, purchases and inventory tracking activities from remote locations without having an internet connectivity and get synced once connected.