What is TurnKey?
Everyone loves a system that is specifically designed to cater to their business requirements, isn't it?
And more often than not, Business Owners are dissatisfied with the kind of existing inventory management softwares that are available in the market due to the limitation of advanced features supporting the exact business process and helping in smoothening the workflow. The offered services are incomplete for any business and makes the system inconsistent with respect to the services that owners are usually looking for. This is quite unfortunate for the Business Owners as they spend a huge amount of time and money in search of a proper solution to automate their ongoing inventory management processes.
We Have a TurnKey Solution for You!
TurnKey Solution is the answer to such business challenges as this system is designed in such a way that it takes your existing business workflow in consideration to understand its challenges in conjunction with your requirements and can easily be deployed into the current business process. Business Owners can start using it immediately once it is configured or installed.
But, here, handling a software solution is often a tedious task for the non-IT professionals. You may often be perplexed how to configure the solution with the inventory you deal with. It may be time consuming how to organize your entire enterprise between business units, locations, warehouses etc. and certainly, you will need an assistance from someone who is enough skilled in doing all these.
Yes! We, at MetaOption, take care of every hassles you may feel. We offer you providing the TurnKey solution, which is especially designed to meet your specific requirements.
Here is a schematic to show you how it works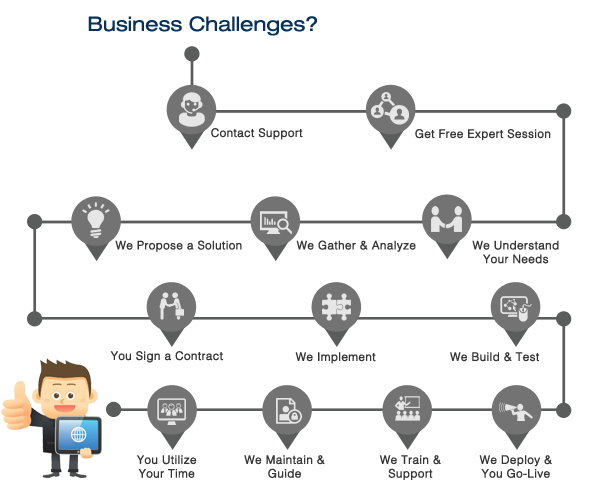 How can we help?
Here at Goods Order Inventory, we understand your needs and after analysing your inventory challenges and current workflow, help you in creating a system which caters exactly to your business requirements, unlike most of the other inventory management systems out there which provide only a generic set of features.
Stage 1: Proposal Phase
Considering the industry type and scale of your business, we make an intensive analysis of your business requirements to the finest details. We are resolved to visualize all possible scenarios in which your inventory may be organized. We aim to add more reasons to the efficient performance of your enterprise and then present it to you. If you like our proposal then you can go ahead and sign a contract with us for its implementation.
Stage 2: Implementation & Testing Phase
After signing a contract with us and confirm the proposed solution to run your business workflow, we go beyond mere analysis phase and commit to do a perfectly tuned implementation of the solution that our analysts suggest. We will build an automated solution considering GOIS as a base, which will be unique to your organization only. A series of tests shall be conducted internally after completing the implementation phase and we will collect your feedbacks to tweak it more to your liking. This will give you a unique personalized experience of running an automated inventory process.
Stage 3: Go-Live Date
After completing the system unit and user level testing for the entire application to make sure it matches exactly with your business needs and workflow protocols, our GOIS team, on the promised Go-Live date, deploy GOIS Enterprise Suite at your work environment, here you have an automated system to run your business.
Stage 4: Training and Support
Our association with you doesn't stop here. We provide your employees with proper guidance and online/onsite training and workshops to use the new solution at its best. We also offer 24×7 functional or technical support to resolve your day-to-day issues and maintain your system throughout its life as needed.
GOIS aims to build strong business relationship and love to see our valuable clients happy to grow together by adapting new technologies on time.